Barbecue Grill (charcoal)
Routine Care Task
Clean and secure for the winter
Priority





Extends useful life of your barbecue grill, and improves the safety of its operation and storage.
NOTE: The tasks and timings shown here for your Barbecue Grill (charcoal) are based on a single-family home (owned), located in Massachusetts, United States, with priority set at '1 star' or higher, for all possible goals.
If you set your personalization differently in your Home Wizard app, then you may get reminders for different tasks and timings in your recommended home care program for your Barbecue Grill (charcoal).
How To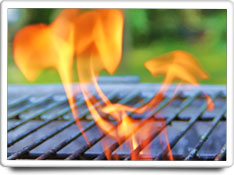 The following are the recommended maintenance tasks which should be performed at the end of each summer season:

Clean cooking grids: Cooking grids can be made easier to clean by covering them with a layer of aluminum foil and heating them on the grill on high for 10 to 15 minutes. The crusted on food will turn to a fine white powder that can be easily brushed away.

Clean the grill: Clean the grill inside and out with a wire brush. For very dirty situations, you can use a paste of tri-sodium phosphate (washing soda). NOTE: Wear gloves and eye protection, as washing soda is very corrosive. The steps are: 1) wet down the grill; 2) apply washing soda paste; 3) close the grill and keep it cool while it soaks in for an hour or so; 4) rinse well; and 5) spray the surfaces with a mixture of 1 tablespoon of white vinegar in 1 quart of water to neutralize the alkaline condition from the washing soda. For charcoal grills, one of the best ways to help your grill last longer is to always remove the ashes. When ashes become wet they create lye, a caustic base, which destroys iron. It is best to get in the habit of cleaning out ashes after each use, hosing down the grill, then spraying it with a mixture of 2 tablespoons of vinegar in a gallon of water, followed by letting it dry very well and then covering or storing to keep moisture out.

Clean burner (gas models): The burner is subject to great abuse from corrosive food acids, high temperatures, and moisture. Burner life can be extended by periodic maintenance and cleaning. To clean, use a wire brush to remove corrosion and residue. Clean clogged gas holes with an opened paper clip (do not use a toothpick or other object that could break off inside). Check burner assembly for corrosion or any openings that could allow excess air. Replace corroded or damaged burners.

Secure the gas supply (gas models): For safety reasons, if you are not going to be using the grill for a while, tighten the gas valves and consider disconnecting the gas supply and plugging the bottle or supply line. To check that there are no gas leaks, mix some dish soap and water, then brush it on the gas connections. If there is a leak, it will cause bubbles to form in the soapy water. Repair immediately as necessary.

Cover or move to shed or garage: To protect the grill from the elements over the winter, either cover it well or move to a covered area. NEVER operate a barbecue grill in an enclosed area.
Benefits
Health & Safety

Maintaining Value

Appearance

Child Safety
The benefits of this task are that it will help extend the useful life of your barbecue grill and improve the safety of its operation and storage.
Costs





The cost of this task is moderately high, from an investment of time standpoint. It is estimated that this task should take about 1-2 hours to complete. To complete this task, you will need gloves, eye protection, and the cleaning products described above.
Barbecue Grill (charcoal)