Hot Tub Spa
Routine Care Task
Weekly seasonal spa maintenance
Priority





This task helps keep spa water clean and safe.
Timing:

Weekly during season.

June, July, August, September

(yearly)



NOTE: The tasks and timings shown here for your Hot Tub Spa are based on a single-family home (owned), located in Massachusetts, United States, with priority set at '1 star' or higher, for all possible goals.
If you set your personalization differently in your Home Wizard app, then you may get reminders for different tasks and timings in your recommended home care program for your Hot Tub Spa.
How To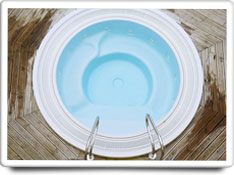 The following maintenance tasks should be conducted weekly when the spa is operating during the season:

- Adjust chemicals.

- Clean filters.

Benefits
Health & Safety

Appearance

Energy Savings

Avoiding Unscheduled Repairs
The benefits of this task are relatively high, in that it helps to ensure the proper operation of your spa.
Costs





The cost of this task is relatively low. It is estimated that this task should take about 30 minutes to complete, and no special tools are required.
Other Routine Care Tasks
Hot Tub Spa