Swimming Pool
Routine Care Task
Monthly off-season maintenance (cold climates)
Priority





This task helps prevent damage to pool cover, liner, walls, etc.
Timing:

Monthly during off-season:

January, February, March, April, October, November, December

(yearly)



NOTE: The tasks and timings shown here for your Swimming Pool are based on a single-family home (owned), located in Massachusetts, United States, with priority set at '1 star' or higher, for all possible goals.
If you set your personalization differently in your Home Wizard app, then you may get reminders for different tasks and timings in your recommended home care program for your Swimming Pool.
How To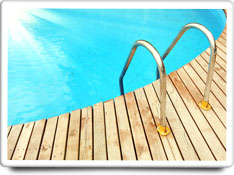 Over the winter, the following items should be routinely checked:

Water level: A slow leak in the liner could cause you to loose a lot of water for the pool, resulting in damage to the cover, liner, and walls. If low, add water using a garden hose.

Check cover condition: Be sure cover is still on secure and tight.

Remove debris or water from cover: Pull off accumulated leaves, etc., and pump off accumulated water.

Replace any broken water tubes.

Benefits
Maintaining Value

Avoiding Unscheduled Repairs

Health & Safety

Appearance
The benefits of this task are moderately high, and can be very valuable for catching small problems before they become big problems.
Costs





The cost of this task is very low. It is estimated that this task should only take about 30 minutes to complete, and the task is relatively easy to do. No specialized tools are required.
Other Routine Care Tasks
Swimming Pool